Rock the Quarry Triathlon and Mile Swim- August 19, 2017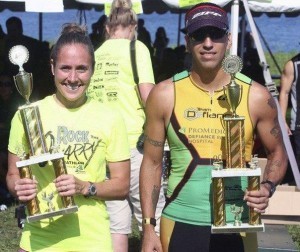 Fidler Pond Park, 1424 Lincolnway East, Goshen
Attention, triathletes and swimmers: You definitely want to put this one on your calendar! A premier event in Goshen that draws athletes from our community and beyond. Our inaugural event in 2015 attracted 227 participants who represented 64 cities and 8 states! This is a special destination triathlon event!
Sprint Triathlon- This competitive but shorter sprint-distance race is great for both veteran and novice athletes.
500 Yard Swim: If you are comfortable swimming in open water, you will absolutely love this rare opportunity to swim in a quarry nestled in a picturesque setting. The course is a triangular counter-clockwise course beginning and ending at the same point.
15.8-Mile Bike: This is a flat, out-and-back course with both right and left turns. The first section extends through an industrial park and then into the country to Millersburg and back.
5K Run: This course is two laps (3.1 miles) on the flat aggregate track that encircles Fidler Pond. While on the course runners are able to see the rest of the field, and there are plenty of great spots for spectators to cheer.
Mile Swim Event- If you like to swim in open water, you will love this opportunity to swim in a pristine quarry. The deep, clean, clear water makes for quite the swim experience. The Mile Swim Event will be set up in a rectangular, counter-clockwise course. Swimmers will be chip-timed, and timing will end upon crossing a timing mat placed on land at water's edge of the swim exit.
Registration and Pricing Information
This is a USAT-sanctioned triathlon. Upon registration each participant must either provide a current USAT membership or purchase a one-day license. Mile swimmers are not required to have or obtain a USAT license. Must be 13 years of age to participate.
Register Online: IMAthlete.com or by using the link at RockTheQuarryGoshen.com. Online registration will close Tuesday, August 15 at 11:59 pm.
Register by Mail: Goshen Parks & Recreation, 607 West Plymouth Avenue, Goshen, IN 46526. Registration forms must be postmarked by Friday, August 11. Click here to view and print the 2017 Rock the Quarry registration form.
Register in Person: Goshen Parks & Recreation Department, 607 West Plymouth Avenue, Goshen, IN 46526. In-person registration will be accepted through Wednesday, August 16. Office open Monday–Friday, 7 am–4 pm.
Register On-Site: On Friday, August 18 registrations will be accepted during packet pickup, 4–7 pm, at the race site (Chiddister Pavilion, Fidler Pond Park, 1424 Lincolnway East, Goshen, IN 46526). On Saturday, August 19 (race day), registrations will be accepted from 6 to 7:15 am. Swimmers may register until 8 am on race day.
Triathlon Team Relay:
2-Person Team 3-Person Team
Now–May 1............................ $75.............................$85
May 2–June 16....................... $80.............................$90
June 17–August 17................ $85.............................$95
August 18 (on site)................ $95............................$105
August 19 (on site)............... $105...........................$115
Mile Swim Triathlon Individual
Now–May 1............................ $25.............................$40
May 2–June 16....................... $30.............................$45
June 17–August 17................ $35.............................$50
August 18 (on site)................ $40.............................$60
August 19 (on site)................ $45............................ $70
Awards
In addition to finisher towels, awards will be presented as follows:
Triathlon Individual: Top 3 male overall, top 3 female overall, top 3 male in each age group and top 3 female in each age group.
Triathlon Team Relay: Top 3 teams accumulative age under 100 (for each participant), top 3 teams accumulative age over 100 (for each participant).
Mile Swim: Top 3 male overall, top 3 female overall, top 3 male in each age group, top 3 female in each age group.
Packet Pickup
Friday, August 18 from 4 to 7 pm and Saturday, August 19 from 6 to 7:30 am at the race site, Chiddister Pavilion in Fidler Pond Park. Since this venue is so unique, we strongly encourage participants to come to packet pickup on Friday to see the lay of land and to get your bearings. It will help you greatly to see the layout a day before race day!
Free Clinic
Roger Antoniu, nationally ranked athlete, will be hosting a free clinic in the transition area from 5:30 to 7 pm during packet pickup on Friday, August 18. Learn tips on how to set up your station, how to save minutes in transition, the top 10 mistakes most newbies make and more. Clinic will repeat every 30 minutes.
---
Kerry's Kids 13th Annual Kids' & Teens' Try-Athlon- July 8, 2017
This exhilarating event is offered to anyone ages 5–18 wishing to take part. While our largest group of participants is from the Goshen area, the 2016 Try-Athlon attracted approximately 300+ representing 24 different cities! With families, friends and spectators, this event draws more than 600 people to Shanklin Park on the day of the Try-Athlon. Our event is conducted much like a traditional triathlon; participants begin with the swimming competition, then move right along to the bike route and finish with the run portion of the race. All participants compete in all three portions of the race consecutively. Racers compete with those in their swimming status group, gender group and age group. This is a professionally chip-timed race.
While some of the participants are competitive in nature, our emphasis is primarily on the accomplishment of finishing the race. All racers receive a participation medal upon crossing the finish line as an award for their achievement, and the top three finishers of each girls and boys age divisions are awarded a trophy. Parents are invited to participate with their children during the run portion of the race to show their support and to be actively involved in their children's steps toward healthy lifestyles.
Pre-teen racers will swim 25 meters (one length of Shanklin Pool), bike 1.2 miles and run ½ mile. Teens ages 13–18 will swim for 75 meters (three lengths of Shanklin Pool), bike 1.2 miles and run 3.1 miles (5K). Each participant completes all three portions of the race, consecutively, with one final race result.
Packet pickup and mandatory bicycle and helmet safety inspections will be conducted Wednesday, July 5 at Rieth Interpretive Center, 410 West Plymouth Avenue, from 12 noon to 6 pm. You must bring your bikes and helmets to receive a "passing" sticker for each. Out-of-town participants who live outside a 50-mile radius of Goshen should contact Kimberlee at 534-2901 regarding packet pickup and safety inspections.
Race Day Times:
Ages 13–18: 8 am
Ages 9–12: 8:30 am
Ages 5–8: 9:30 am
Age Divisions and Swimming Category (boys and girls compete separately):
Non-swimmers*: Ages 5/6
*The non-swimmer category is for those needing a lifejacket to swim 25 meters; lifejackets are mandatory for this category. The non-swimmer divisions will still take part in the swim portion of the race with the use of a lifejacket.
Swimmers: 5/6, 7/8, 9/10, 11/12, 13/14, 15/16, 17/18
Thanks for another great year! Stay posted for the 2018 information.
---
For more information on Parks programs and special events, please consult our Spring & Summer 2017 Park Guide.
Get parks and recreation updates sent straight to your inbox. Click the "Sign Up for Email Updates" to join our email list. You can sign up for the programs & events that interest you the most!